Google Friend Connect had a great start and was seen on every other blog we visit. But after some time bloggers realized that the widget was taking some significant space on their blog. So one by one started removing it, and those widgets stared disappearing from many blogs.
Now Google is smart enough to understand the cause and the Friend Connect Team is here to help.
We're happy to announce a new feature: the social bar.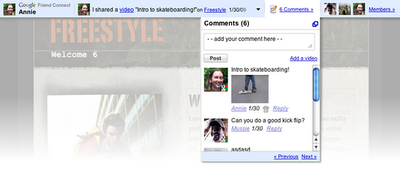 The social bar concentrates many of the basic social functions into a small strip at the top or bottom of your webpage.
Watch the video to see how exactly the Social Bar works:

Here are some of the points which the Friend Connect Team believes the social bar will deliver:
On the far left, visitors can join your site, see their identity, and edit their profiles and settings.
Your visitors can also delve into your site's activity stream to see what's happening throughout your site. It includes links to recent posts made anywhere on your site, helping other visitors quickly find where the hottest conversations are taking place.
The wall gadget can host a discussion for the whole site, a section of pages, or each individual page, letting your visitors easily read and leave comments.
Lastly, visitors can see the other members of your site, check out their profiles to see how like-minded they really are, and even become friends.
It can also be implemented on blogger(blogspot.com). It can be used like any other widgets.
Are you using Friend Connect on your blog? What do you think about these widgets? Have they helped to serve any purpose? Does your readers use it frequently?